Step-By-Step Guide to How to Become a Business Analyst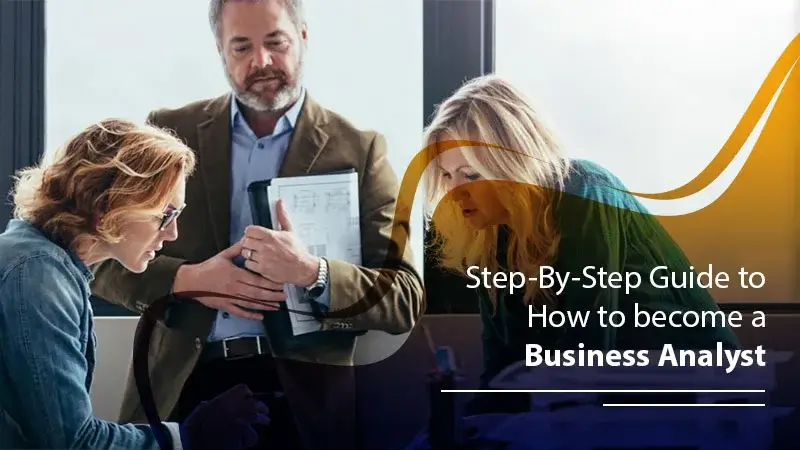 Business
Are you looking for a rewarding job with lots of room for growth? A great way to make a difference in the business world is to become a business analyst. Business analysts find problems and come up with ways to fix them so that businesses can reach their goals. They are important to businesses in many fields because they give organizations the information they need to make good decisions.
You can do well as a business analyst if you have the right skills and experience. In this blog, we will tell you how to become a business analyst, what skills and qualifications you need, and what it's like to work in this field. If you take the right steps, you can be on your way to a successful career as a business analyst.
Who Is a Business Analyst?
In the data-driven world of today, businesses use data to find business patterns and get useful insights. Companies use the data they have to try to improve their processes and make important decisions.
A business analyst helps an organization change by understanding and analyzing business problems and coming up with solutions that will add the most value to the organization's stakeholders.
Business analysts bring IT and business teams together by using analytics to evaluate processes, figure out requirements, deliver data-driven solutions, and make reports for executives and other stakeholders.
Role and Responsibilities of a Business Analyst:
A business analyst has many roles and responsibilities at work. Before you can learn how to become a business analyst, you need to know what a business analyst does. Here are some of the most important things a business analyst has to do:
A business analyst figures out a company's goals and problems and comes up with profitable ways to solve them.
They understand business requirements and get them from clients and other stakeholders.
Business analysts work with the development team to come up with a plan for how to solve a problem.
They give proactive feedback on how a software application is laid out and add the new features that a business needs.
Business analysts figure out what a business needs, both in terms of how it works and how it looks.
They meet regularly with stakeholders and clients to talk about business problems and how to solve them.
With the help of user acceptance testing, it is the job of business analysts to check the status of a project. They make sure that the business solutions meet the needs of the client.
A business analyst writes down all of the project's findings and makes data visualizations to show them.
How to Become a Business Analyst?
 Here are a few steps that will show you how to become a business analyst:
· Choose a Goal
Getting the basics right is the most important thing to do to be successful in business analytics or any other field. You could start by learning more about what business analytics is all about. First, it's important to know exactly what a business analyst does. Blogs and online training can help you decide if you want to learn business analytics or not.
· Get an Education in a Similar Field
Getting a bachelor's degree is usually the first step to becoming an entry-level business analyst. If you want to work in business analytics at the management level or even higher, you might need to get a higher degree. If you want to stand out in a competitive field, think about getting a master's degree, which is required for business analytics or business administration.
· Learn How to Analyze a Business
If you want to do well as a business analyst, you need to improve your skills. Here is a list of the top five skills for a business analyst:
Business Analytics
Problem-Solving
How to talk to people
Stakeholder Analysis
Technical Skills
· Acquire Online Business Analyst Certificate
You can get certificates that are important to your business analyst qualifications if you want to show off your key skills and learn about the newest software and technologies. If you want to move up in your career, getting certifications could help you a lot.
· Get Practical Real-Time Experience
Once you know all the rules, techniques, and skills you need for business analytics, you can build your practical skills by working on real-world projects that use business analytics. However, by learning more about the tools and technology available and how businesses use them, you'll be better able to figure out how to be a business analyst.
· Apply for Job
Make a good portfolio by putting together all of your practical projects, assignments, etc. You must also include any work you did for your internship or online credentials in the portfolio.
If you have the right training and experience, you will be able to apply for a job as a business analyst. Before you apply for a job, make sure your resume is up-to-date. Use your resume to catch the interviewer's eye, since the first impression is the most important.
Skill Required to Become a Business Analyst
To do the tasks listed, you need to have a wide range of technical and non-technical skills. Here are the most important skills you need to be a business analyst.
1. Degree and Expertise in the Field
You should have a college degree in the field. It also helps if you know a lot about the pitch and have relevant experience.
2. Skills for analyzing
Business analysts need to be able to think analytically, logically, and critically. This makes it easier to figure out what a business needs and choose the best way to solve a tough business problem.
3. Microsoft Excel
Excel lets you make a number of graphs and dynamic reports that are related to a business problem.
4. How to Talk to People
A business analyst needs to be good at negotiating. As a business analyst, you have to make sure that your company makes money and that the client is happy.
5. SQL:
A business analyst needs to know SQL and how to use relational databases. This makes it easier to get to, get, change, and analyze data. It is very important to know how to use Microsoft SQL Server, MySQL databases, Oracle DB, and SQLite.
6. Programming
You must know how to use programming languages like R and Python. Learning how to code helps you solve hard problems and analyze data more quickly.
7. Data Visualization
Business analysts need to know how to use tools like Tableau, QlikView, and PowerBI to show data. This will help them make reports and dashboards, predict data, and make important business decisions.
8. How to talk to people
A business analyst should be able to talk to clients and other stakeholders and give good presentations. If they are to do documentation, they must also be excellent writers.
Summing Up:
How to become an analyst, you need to know about the business, its processes, and how it works. You also need to know about the tools and methods used to analyze it. It also takes good communication, problem-solving, and organization skills.
With the right education, experience, and certification, you can become a successful business analyst and help any organization succeed. But you can become a business analyst if you invest in yourself and your career by taking the time to learn the necessary skills and knowledge and build a network of contacts.
Next article
Find How to Buy Cryptocurrency and Start Trading